---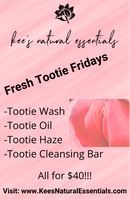 Fresh Tootie Bundle (Wash, Oil, Haze, & Cleansing Bar)
This bundle will consist of the Tootie Wash, Tootie Oil, Tootie Haze, & Tootie Cleansing Bar. All of these items are made with all natural ingredients that will leave your Tootie fresh, clean, and hydrated!!!
Tootie Wash is Made With: Rose Water, Cocus Nucifera (Coconut Oil), Lavandula Angustifolia (Lavender Oil), Melaleuca Alternifolia (Tea Tree Oil), Castile Soap, Witch Hazel, and Vitamin E Oil.
Tootie Oil is Made With: Castor Oil, Hempseed Oil, Grapeseed Oil, Vitamin E Oil, Yarrow, Motherwort, Calendula, Roses, Fractionated Coconut Oil, Mugwort, Lavender Oil, Tea Tree Oil, & Rosehip Oil.
Tootie Haze (Steam) is Made With: Rose Petals, Mugwort, Motherwort, Yarrow, Rosemary, Calendula, & Lavender.
Tootie Cleansing Bar is Made With: Water, Apple Cider Vinegar, Coconut Oil, Olive Oil, Rice Bran Oil, Sweet Almond Oil, Shea Butter, & Essential Oils.
****The above statements have not been evaluated by the Food and Drug Administration. These products are not intended to diagnose, cure, treat, or prevent any disease(s). If irritation or breakout forms, stop use of the product immediately and contact your primary care physician. ****